Jan Flory is a member of the OC Vector Control Board which is scheduled to vote Wednesday on authorization for aerial spraying of Orange County with insecticide. Please come to the city council meeting Tuesday April 19th and fill out a speaker slip to speak during the public comment period at 630pm and tell her how you feel.
"Agenda for the 833rd Meeting, April 21, 2016 Page – 2
9. Adopt Resolution No. 423 Authorizing the District Manager Authority to Implement Aerial Spraying for Adult Mosquito Control (Adulticiding) Within a Specified Area to Suppress a Mosquito-borne Disease Outbreak Threatening Human Health When Surveillance Records Indicate a Need for Immediate Action is Required: (Exhibit B, C)
Recommendation The District Manager recommends that the board of trustees adopt Resolution No. 423 authorizing the District Manager to implement aerial adulticiding spraying to suppress a mosquito-borne disease outbreak in a specified area when surveillance records indicate a need for immediate action."
WE DO NOT want them to adopt resolution No. 423.  SPEAK TOMORROW AT YOUR CITY COUNCIL MEETING TO EXPRESS THIS GRAVE CONCERN! Jan Flory is up for election in November.
For the first time in ORANGE COUNTY'S 100 PLUS YEAR HISTORY, VECTOR CONTROL wants to spray 53,000 acres of Orange County with a pesticide called "Duet dual action adulticide" and put the power into the hands of one unelected man. The manager of Vector Control. Last year,  they almost did it WITHOUT mass mailing, WITHOUT your permission, WITHOUT your knowledge and WITHOUT your input.
FOLKS, NO ONE HAS DIED FROM WEST NILE IN THE OC IN 2015
 WHY RUSH THIS THROUGH NOW and WHAT IS GOING ON HERE?
 THIS IS A HUGE PRECEDENT BEING SET HERE.
REMEMBER BACK IN 1989 WHEN THE MORONS AT THE STATE LEVEL SPRAYED TOXIC MALATHION ALL OVER THE PLACE AND THEY TOLD US THAT WAS SAFE? MALATHION IS NOW BANNED BECAUSE IT CAUSES  CANCER. 
Here is the FIRST area being targeted for the poisons to be sprayed on ALL THE HOMELESS and everyone else.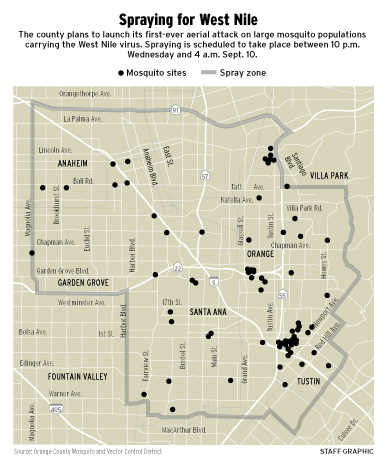 WHY THE HECK IS THIS A SECRET? WHY DIDNT THEY DO A MASS MAILING AND NOTIFY THE PUBLIC?
WHY DON'T YOU ASK THEM-http://www.ocvcd.org/boardOfTrustees.php
Despite 5 million people living otherwise what are considered far from normal healthy lives, a few dead birds and a mere 5 cases of NON LIFE THREATENING West Nile virus, the public health authorities have determined IN SECRET, BEHIND OUR BACKS that it is time to spray all of you at 300 feet while you sleep with what they call safe levels of pesticide whose components are highly toxic to insects and some animals. They also tell us that the poison breaks down into carbon dioxide and water in the presence of sunlight?
Bullshit-Pyrethroids which are an active ingredient in "Duet adulticide"  are modified to increase their stability in sunlight. Prallethrin which is a pyrethroid is found in Duet. Then they add the synergists like Piperonyl butoxide which are designed to deal a heavy blow to the target's immune system to ensure efficacious delivery of the poison.
Are you kidding me? Oh sure it will all vanish when the children wake up and go outside but not before it blankets the homeless, avoids all the storm drains where the mosquitoes breed and creeps into all the homes and breathed by all of you when you are sleeping.
Look at the ingredients here Duet product label. Petroleum products don't breakdown at sunrise especially on soft porus surfaces. Folks I am not attempting to downplay the dangers of contracting any disease. I am merely here to point out that Orange County Vector Control has made a decision that impacts millions of people and you know nothing about it and how this plays into a much larger problem than most of you realize.
Look public health is no joke folks but it doesnt trump the rights of millions of people when it comes to setting a precedent to spray us with whatever chemical concoction these unelected people decide on during a secret 10am Monday morning meeting with no formal written notice, or our consent and only 6 days to go. They just did this with the vaccines a few weeks ago with SB277.
Looks like Fullerton's Vector Control Trustee Jan Flory's absence on 3-19-15, her refusal to respond to my emails and her hand in the August proceedings has her jumping right out of the frying pan and into the fire.
She is batting 1000 ramming dangerous microwave radiation emitting cell towers right next to schools and homes and now she has her dirty claws into forcibly exposing everyone to petrochemical poisons through nightime spraying operations, going along some secret 6 day notice with no formal written notices, no consent of the people, no public discussion on the matter all the while refusing to respond to my emails.
There is no WEST NILE emergency here but there is a public health crisis of epic proportions that has nothing to do with mosquitoes. We have a massive epidemic of people who constantly eat complete crap, get way too much wireless exposure occupationally, at school, at home,those who stay up all night playing video games, who don't get enough sleep, take way too many pills and poisonous medications, drugs, drink too much alcohol, drink too many toxic energy drinks, eat too much toxic meat, don't get enough exercise, watch too much TV, drink too much toxic diet joke and aspartame, acesulfame potassium, and sucralose laden beverages, don't get enough sunlight, don't get enough fresh air, and don't drink enough water so of course they are going to get sick. DON'T SPRAY ALL THE  HEALTHY PEOPLE BECAUSE THESE PEOPLE WANT TO ABUSE THEMSELVES and are afraid of mosquitoes. West Nile is harmless to normal healthy people with flu like symptoms at worst.
Of course there is also a vulnerable subset of the population who are immuno compromised for other reasons and have poor immune systems. For those people- STAY INDOORS AT DUSK AND CLOSE YOUR DOORS AND WINDOWS. This is just another manufactured crisis like the Disney measles fraud where no one died and now they have the right to forcibly vaccinate all 20 million children with whatever they damn well please. Now they forcibly spray you all with this crap.
They claim the problem is a mosquito born zoonotic virus illness called West Nile Virus. Look folks, disease has been around for a long time but not the ones that jump species. For a virus to possibly go directly from avian or simian to human, was an extremely rare event up until recently. These are bio weapons pure and simple and have their origins in laboratories all around the world that US tax dollars are funding. http://www.newdawnmagazine.com/articles/SARS,%20Bioterrorism%20and%20the%20Media.html
This virus is a man made virus WHICH SAW ITS FIRST US RELEASE IN NEW YORK CITY IN 1999 NOT TOO FAR FROM WHERE THE MAN MADE AIDS VIRUS EPIDEMIC IN THE US STARTED FROM LACED HEPATITIS VACCINES SOME 2O YEARS EARLIER
This has been released to set the precedent for the very thing we are witnessing here-FORCED AERIAL CHEMICAL POISONING OF THE POPULATION, THE POTENTIAL FOR FORCED VACCINATION AND INTENTIONALLY INDUCED ILLNESS BY THOSE WHO ARE NO STRANGERS TO BIO TERRORISM-THE US GOVERNMENT. The solution is to spray entire affected areas from aircraft at low levels. So what in the world are they going to spray and what the heck is really in this stuff?
Prallethrin-
Oral exposure to allethrin could affect fertility and may contribute to deregulation of cell cycle in the male reproductive tract.In the epididymides and testes, damage to tubular architecture, congestion, degeneration of epithelial cell lining, intestinal edema, and presence of dead or degenerating spermatids were observed in a dose dependent manner  http://www.ncbi.nlm.nih.gov/pubmed/23595975
Exposure to allethrin-based mosquito coil smoke could lead to oxidative stress and compromise germ cell production. http://www.ncbi.nlm.nih.gov/pubmed/22356257
there are tons more……
Phenothrin aka Sumithrin
and Petroleum distillates
Folks I could fill pages of what this crap does but I wont here. The point is that this kind of draconian solution to a non problem needs to involve the people being affected. This is just another form of medical tyranny being carried out by people who blindly follow orders and believe everything that the so called government and industry experts tell them.
We now live in a town where your children are being forcibly irradiated by the wireless systems in the schools, where we are being forcibly irradiated in our homes by the microwave towers, where your children are being forcibly vaccinated, where your entire family is being forcibly poisoned with the municipal water supplies and now you will all be forcibly poisoned in the air by the coming wave of aerial spraying at 300 feet.
Folks believe me, there will be more spraying as long as you all remain stupid enough to accept all of this. This is just the beginning. Like I have stated publicly before, we live in a scientifically designed kill grid where shut off the water so you cant grow food, cram everyone in high rise tilt ups while the US is 95% rural open space.
THEY CONTROL WHAT YOU EAT, WHAT YOU THINK, WHAT YOU DRINK, WHAT GETS INJECTED INTO YOU, WHAT THEY SPRAY YOU WITH,WHAT POWER LEVEL AND FREQUENCY THEY IRRADIATE YOU WITH, WHAT THEY DRUG YOU WITH AND WHAT YOU WATCH, HEAR AND READ. Yes and they will continue to inject, irradiate, drug and spray all of us unless we stop all of this.
vaccines and forced sterilization https://thefullertoninformer.com/category/forced-vaccinations/
wireless and forced sterilization https://thefullertoninformer.com/apple-666-project-inkwell-and-agenda-21-an-expose-with-an-all-star-cast/
geoengineering and the drought https://thefullertoninformer.com/californias-geo-engineered-drought/
If our ancestors could only hear us now-ONE IF BY LAND, TWO IF BY SEA, THREE IF BY AIR AND FOUR IF AT YOUR FEET. You can dismiss all this as nonsense and you can say that all of these things are necessary all you want. One thing is certain folks, these things are all AGENDA 21 Trojan Horses that are and will be used against us by those at the highest levels who wish us harm. They simply use the low level rubber stamp hacks and the compartmentalized research apparatus to carry out eugenics with no one even questioning and it always starts in the neighborhoods south of the tracks. It will spread northward. GET INVOLVED AND OPEN YOUR EYES LADIES AND GENTLEMEN.
Call your local police department, if you live in a spray area, and REPORT THIS CRIME that Vector Control of OC plans to commit! California Penal Code 375. (a) It shall be unlawful to throw, drop, pour, deposit, release, discharge or expose, or to attempt to throw, drop, pour,
deposit, release, discharge or expose in, upon or about any theater,
restaurant, place of business, place of amusement or any place of
public assemblage, any liquid, gaseous or solid substance or matter
of any kind which is injurious to person or property, or is nauseous,
sickening, irritating or offensive to any of the senses.
California Penal Code PEN Section 375. Read the code on FindLaw