Remember back in 1988 when Shanghai Hepatitis A Cases exceeded 300,000 WITH ONLY 11 Deaths Reported in a 2-Month Epidemic That 'Shocked' China?
11 deaths per 300,000 cases? We have 16 deaths in 400 cases? China was and is a communist country and back then, squalor was the norm for many impoverished peasants and city dwellers.
What kind of superbug has been released into the San Diego and Los Angeles homeless population to set the stage for forced vaccination laws?
What lab did this strain come from? Why did it skip Orange County? Who is behind the staging of this act of murder?
AGENDA 21 IS ALIVE AND WELL IN SAN DIEGO CALIFORNIA-GROUND ZERO ONCE AGAIN FOR EUGENICS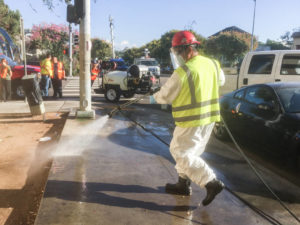 THE BIOTECH EUGENICS CAPITAL OF THE WORLD-SAN DIEGO CALIFORNIA
HOME TO THE EPICYTE CORN THAT STERILIZES THOSE WHO CONSUME IT
SAN DIEGO'S BEN HUESO-AUTHOR OF EUGENICS SENATE BILL SB 649 THAT WILL PUT STERILIZING CANCER CAUSING MILLIMETER WAVE TRANSMITTING MICROWAVE CELLULAR ANTENNAE ALL OVER EVERY LIGHT AND POWER POLE IN THE STATE.
When there is smoke ladies and gentlemen, there is fire. What is going on with the Hepatitis outbreak in San Diego? It is a staged outbreak that has been contrived to drive a vaccination agenda. It is working like a charm and tens of thousands have already taken the shots in the past few weeks.
We have been through this before. Remember THE DISNEYLAND MEASLES OUTBREAK  WHICH WAS STAGED  in order to pass a forced vaccination law SB 277? 
THE LEGAL FRAMEWORK IS ALREADY IN PLACE TO FORCIBLY AND CLANDESTINELY STERILIZE CHILDREN WITH VACCINATIONS BUT NOT ADULTS.
Hepatitis can be spread like wildfire via the food or water supply and they know it. Of course this disease can be serious but most people who get the disease never even know it because they never manifest symptoms. Hepatitis A is a mild, self limiting disease, resolving on its own with no treatment in 4-8 weeks in most cases.
ALL STAGED OUTBREAKS ARE PART OF A LARGER AGENDA AND AS YOU WILL SEE, THIS AGENDA NOW INVOLVES ADULTS.
SB277, the forced vaccination law for children was birthed from the staged Disneyland Measles outbreak. As of yet they still have not managed to find a way to get the adults into the matrix with forced vaccinations until now. If you will notice, the coverage of this San Diego Hepatitis outbreak has been really vague and spotty with the same tag lines being repeated for months and no real details being released. All we hear is that the epidemic is expanding and people are dying.
This particular staged outbreak involves the 1B hepatitis strain. This genotype is rarely seen in the Americas but circulates in North Africa and the Middle East. This is just more evidence that this whole thing is staged.  It appears to have been released into and ignited in the homeless populations.  San Diego first, Los Angeles and now Salt Lake City. I believe it was probably initiated through intentionally contaminated donated water, food or even from intentionally contaminated vaccinations they have been given. We are being told nothing definitive as to when and where it actually began which is just what you expect from a staged outbreak.
This staged San Diego outbreak is the deadliest in decades. Let's talk about the Hepatitis outbreaks that have taken place in the United States.  Prior to this there were numerous outbreaks over the last 20 years. If you will notice,  unlike this staged outbreak, these prior outbreaks were all linked to a source, had susbstantial numbers of infections and almost no deaths.
The most widespread hepatitis A outbreak in the US was the 2003 United States hepatitis outbreak  that afflicted at least 640 people (killing four) in northeastern Ohio and southwestern Pennsylvania in late 2003 The outbreak was blamed on tainted green onions at a restaurant in Monaca, Pennsylvania.
Each year, approximately 180,000 hepatitis A infections occur each year in the United States resulting in approximately 100 deaths. This is a 0.00055 death rate
The Staged San Diego Outbreak involves 421 cases that have resulted in 16 deaths. Authorities have admitted to vaccinating more than 21,000 people this far. This is a 0.038  death rate.
This staged outbreak is far more deadly as it has a death rate of 3.8% How is it possible to have a death rate running at 6,900 percent over what we would expect? This staged epidemic is setting the stage for mass forced vaccinations.
ALL OF THE OUTBREAKS IN THE LAST 20 YEARS WERE TRACED TO A SPECIFIC CAUSE AND LOCATION.
THIS STAGED OUTBREAK IN SAN DIEGO HAS NOT BEEN TRACED TO A  SPECIFIC CAUSE OR LOCATION AND IT HAS BEEN GOING FOR 5 MONTHS NOW. The list of those recommended to receive the Hep A and B vaccine has now been expanded to include the following occupational groups: fire; emergency; law enforcement personnel; food handlers; health care personnel and professionals; service workers working directly with the homeless population; individuals working directly in substance abuse treatment programs; and public transit workers. This list will soon be expanded and the word recommended will soon be replaced with "mandated".
The push is on for vaccinations folks. The goal is to get everyone vaccinated for Hepatitis A and B even though most  infections in young children are asymptomatic, is so mild that 90% of kids who get hepatitis A never even know it an most adults never know it either. Even the National Institutes of Health states that: "Most people who have Hepatitis A get well on their own after a few weeks."
Normally, Hepatitis A rarely presents itself inducing life-threatening situations. Usually, By the time symptoms appear, the disease is no longer infectious. Unlike hepatitis B, Type A hepatitis disappears completely after acute infection, and does not contribute to chronic liver disease or to cirrhosis. It is important to note that after the patient recovers, he has lifetime immunity. True immunity.
Hepatitis A can be caused by both hepatitis B and hepatitis C vaccines! This fact is found in a disclaimer that GlaxoSmithKlein makes about Havrix, that it can't cure the hepatitis caused by these other 2 vaccines as stated   by the manufacturer on p 1545 of the 2002 PDR: a possible side effect of Havrix is hepatitis! 
Now look what is being recommended on a wide scale basis. It is a combination vaccine that allegedly offers protection from both Hepatitis A and B called  TWINRIX .
I am sure that another combo vaccine will emerge soon to be a more  effective sterilant. After all, every vaccine on the market has the license to do just that-sterilize you.
The Hepatitis vaccine along with all the other vaccines  have "……… not been evaluated for its carcinogenic potential, mutagenic potential, or potential for impairment of fertility."  This statement is printed on every vaccine insert in the country in section 13 of the vaccine insert.
One component of this combo vaccine is the Hepatitis B surface antigen. The Pre-S Protein-Containing Hepatitis B Virus Surface Antigens combined with adjuvants make up the vaccine.  We know that co-incubation of human spermatozoa with hepatitis B virus S protein, causes a significant loss of sperm mitochondrial membrane potential (MMP), which reduces the sperm's motility, and resulted in sperm death and diminished fertility.
Twinrix is the vaccine that is used to prevent Hepatitis A and and B.  It is given in a series of 3 injections- 1 dose followed by  2 more doses at 1 month and 6 months. It can also be given in 4 doses, with the initial dose followed by doses at 7 days, 21 to 30 days, and 12 months.
We know that in order to sterilize anyone, such as was done with the Tetanus shots in Kenya, multiple doses were required 6 months apart.
We must call them out on this in order to stave off a massive staged epidemic just as we did when we called them out on their attempts to stage a St Louis Encenphalitis outbreak in Orange County as a justification to do aerial spraying. 
Ladies and gentlemen, what I believe we are witnessing here is the beginning of a sterilzation agenda aimed not only at children but also adults. It will be a matter of time before this vaccine becomes a condition of employment to anyone who works with food, water, or even the public.
Legislative enactment will swiftly follow this staged epidemic just as it did with the Disneyland staged measles outbreak. Forced vaccinations are coming only for those who refuse. Most people will roll up their sleeves willingly as they have already done with their children. The time is now to prepare, get informed and get ready to stand your ground. The line in the sand has been drawn. Can we make this any clearer?
Joe Imbriano 9-18-17