Posts Tagged Joe Felz Dan Hughes bruce whitaker jennifer fitzgerald
THE CHARADE OF FULLERTON POLICE DEPARTMENT REFORM UNDER FORMER POLICE CHIEF DAN HUGHES AND THE SILENCE OF OUR FULLERTON CITY COUNCIL MEMBERS…MAYOR BRUCE WHITAKER, MAYOR PRO-TEM DOUG CHAFFEE AND COUNCIL MEMBERS JENNIFER FITZGERALD, GREG SEBOURN AND JESUS SILVA.  BY BARRY LEVINSON
Our streets are the joke of Southern California, we are drowning in millions of dollars in red ink caused by overly generous salary and pension increases, our traffic congestion is quickly reaching big city proportions and our elected representatives are the poster children for corruption and crony capitalism, yet the biggest problem still remains the corruption throughout the ranks of our Fullerton Police Department.  They have the power to use lethal force against the public and the ability to put innocent people in jail.  I have first hand experience with the latter statement. This can definitely impact adversely every citizen in Fullerton.  It does not matter if you are an activist or you are someone who does not know the names of any of our elected officials.   We are all at risk and will continue to be at risk until we clean house at the FPD!
So with this as the backdrop, I spoke at the Fullerton City Council during Public Comments on April 18, 2017.  They give you a "generous" 3 whole minutes to speak.  In reality, with the current group of council members, it would not matter if they gave you three hours or even three days to speak because they ignore everything out of the public's mouths unless you choose to kiss their you now what!
I spoke about two very important subjects.  The first subject was the failure of our "reformed" Fullerton Police Department to take the statements from Joe Imbriano and myself to report the crime of obstruction of justice by recently retired Police Chief, Dan Hughes in regard to his failure to allow his officers to follow normal police procedure to arrest Joe Felz for DUI and for leaving the scene of an accident with damages.  Joe Felz was eventually charged with those two counts, months after the incident by the OCDA Office.   I admonished the entire council for its continued failure to discuss this very important issue.
With my remaining 30 seconds I dropped a bombshell in the laps of our distinguished dais.  I told them that I was informed by Banc of California employees at the Euclid and Rosecrans Avenue branch that it is closing because a developer bought the property to be part of the development of the entire Sunrise Village Shopping Center to become mixed-use high-density high-rise residential units.  The city desperately needs the short-term infusion of money that would be generated by the Park and Recreation Department Park Dwelling fees of $11,700 per residential unit.  If they build 500 units for example that would generate an additional $5,850,000 in revenue.  This would help to cover the extremely generous salary and benefit employee raises approved by the council last year.  More development approvals would be needed to continue paying for these salary and benefit increases approved under Mayor Jennifer Fitzgerald in 2016 for subsequent years.   I put the council on notice that I smelled a rat.  Namely that the city in my opinion has been dealing with developers to make this mixed use project a reality in the near future.  Why else would these landlords create vacant properties with the absence of valuable rents if they only had a hope that they could convert the shopping center to a concrete jungle of mixed use high-density housing units.  I told them it was not zoned for that use and that the people of that neighborhood would fight to make sure it never ever came to fruition.  You should have seen the faces of Bruce Whitaker and Jennifer Fitzgerald after I finished with my comments.  They did not look pleased at all.
Of course, there was no response by any council members to these comments and the Interim Police Chief also was silent after he learned that his department would not take a simple police report by two members of the community. Gee silly me, I thought it was their job to take the statement and then go and investigate; not determine that no crime was committed so therefore no police report was necessary to be taken by them in the first place.
The first order of business has to be from the OCDA Office by filing obstruction of justice charges against Dan Hughes.
Like I said at the beginning of this post, the City of Fullerton and the Fullerton Police Department are corrupt and the Fullerton Police Department needs to clean house
Yes Jennifer Fitzgerald voted to give Joe Felz an evergreen contract
Yes Bruce Whitaker and Jennifer Fitzgerald voted to give Dan Hughes an evergreen contract
Yes Bruce Whitaker voted to make a Curt Pringle lobbyist, Jennifer Fitzgerald, mayor just in time for the ballot designation.
Yes Bruce Whitaker and Jennifer Fitzgerald voted to appoint a SCAG senior planner Ma' Ayn Johnson to the planning commission
Now Bruce Whitaker admits he was out drinking with Joe Felz on election night, and in my opinion, no doubt celebrating the re election of those keeping the lid nice and tight on the corruption you know like the 5 million dollar Fullerton golf scandal.
http://www.ocregister.com/articles/felz-734973-city-fullerton.html
"Whitaker said he and Felz each had a beer around 1 a.m. Wednesday during the councilman's re-election party at JP23 BBQ & Smokehouse in the 100 block of South Harbor Boulevard" 
………"He (Felz) seemed to be in control of his faculties," Whitaker said Wednesday night.
Hughes said in the memo that he received a telephone call at his residence from a watch commander who reported that Felz was involved in a minor crash and that a field sergeant believed the city manager was "emitting an odor of alcohol."
So Joe Felz, after drinking with Bruce, gets in his car, and in a residential area,  jumps the curb at 1:30 am, hits a tree, gets his car stuck, frees the car, attempts to drive off for 175 feet or so and, gets stopped by the police, smells of booze, allegedly demands that the officers call the police chief, is given a private set of sobriety tests and was allowed to delay the breathalizer, and then gets a ride home from the police, no charges, nothing to see move along now even though his car was damaged enough not to be driven to work today.
Dan Hughes apparently had at least four officers present at the scene who did not immediately conduct the field sobriety tests or administer the breathalyzer. The officers on the scene according to an unnamed source were officers Boline, Haid, G. Eibert, and Wilkerson. These officers have the experience, the expertise and  the arrest rates that get them the MADD awards at the council meetings yet they were called off of immediately testing Felz for DUI. Why is that?  That is because Joe Felz allegedly demanded that they call Dan Hughes.
Why did these officers listen to the person who allegedly demanded that they call the police chief when he smelled like alcohol after he just lost control of their car, hit a curb, and took out a tree and not make the judgement themselves to administer tests and evaluate and if necessary arrest Felz?  Why didn't they put the cuffs on him right away? If this was you or I, they would have.
No, instead these officers listened to the City manager that smelled like alcohol, who just lost control of his car, hit a curb, and took out a tree that allegedly demanded they call  The police chief Dan Hughes instead of immediatley doing what any good police officer would do. That is to immediately administer the tests. Apparently Hughes ordered them to deviate from policy and wait for Jeff Corbett to arrive some time later to evaluate Felz without another witnessing officer present and conduct the tests. Corbett is not one of the FPD's  field sobriety experts as he has not conducted a DUI test in years. So why delay and bring in someone who is not the most properly suited for the task? Well it is of course to control the outcome. Corbett is Hughes's special guy.
According to an unnamed source, Corbett led Felz away from the other officers and conducted the tests out of sight of the officers present and he did it alone which is a clear violation of  FPD policy. Perhaps that is why Felz passed the test with flying colors.
Was Felz given a PAS test? Why not?
To refresh your memories, this is a bizarre dichotomy of the sickest kind. Let me explain. Joe Felz was obviously driving impaired with evidence of a crash and alcohol on his breath and yet procedures are violated in order for him to go home instead of going to jail.
Remember this man? He was arrested in Fullerton for DUI and was also given a ride home, but his was, unfortunately, to his final resting place
Dean Gochenour obviously was driving impaired with evidence of  alcohol on his breath and yet procedures were violated in order for him to go to the morgue instead of going home.
Supervising Mr. Gochenour while in the jail was FPD Officer Vince Mater who ended up serving probation after pleading guilty to destroying an audio recording of conversations he had with Dean who later committed suicide in jail.
So why was Banana Republic Emperor Joe Felz not arrested for DUI and other misdemeanor charges at the scene?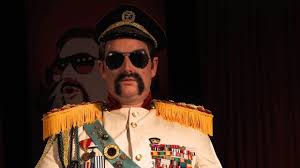 So why in the world was Bruce Whitaker  drinking with Joe Felz at 1 am on election night?
Why would Bruce appear to come to his defense and state that he had "one beer" with him and just minutes later according to the officers on the scene reek of alcohol and yet Bruce Whitaker stated that "He (Felz) seemed to be in control of his faculties,"?  What kind of BS is this? 
What's in it for Bruce Whitaker to step out and make a statement?  He covers his own ass.  If Felz was drunk, Bruce knowing this and letting the man drive home would look bad for not only Bruce Whitaker, but could implicate him in liabilities down the road.
Dan Hughes said City Manager Joe Felz was suspected of consuming alcohol – but wasn't impaired – prior to being involved in single-vehicle crash early Wednesday, according to a memo from Fullerton Police Chief Dan Hughes.
"On November 9, 2016 at approximately 0130 hours FPD officers were dispatched to 255 W. Glenwood regarding a possible collision where the vehicle had struck a curb and was stuck on the sidewalk. The driver was later determined to be city manager Joe Felz. I received a telephone call at my residence from the Watch Commander who informed me that the city manager was involved in a minor single vehicle collision and that the sergeant believed the city manager was emitting an odor of alcohol. I informed the Watch Commander that I would call the sergeant to obtain additional information and that I would have the field sergeant conduct a preliminary assessment by performing Field Sobriety Tests and if the sergeant believed there was a level of intoxication that met the criteria to be a violation of the law, we would contact the CHP to investigate. I provided the above directions to the field sergeant and also briefly spoke to the city manager on the phone to explain what protocol would be followed. The sergeant conducted the assessment and made the determination that the city manager had consumed alcohol, but did not meet the criteria of 23152(a) CVC. The city manager was driven home and his vehicle was towed. During this time period, I also contacted Mayor Fitzgerald and informed her I was following the protocol of notifying the mayor about the contact with the city manager. I informed the mayor of the directions I had provided to the field sergeant and that I would re-contact her when the investigation was complete. Her only instructions were to follow normal procedures. A collision report was documented under case 2016-74804 and a supplemental report will be completed by the sergeant documenting the assessment of the city manager."
We know he was consuming alcohol. Bruce admitted it, the officer on the scene smelled it, he crashed his car and gets a free ride home with no charges filed?
I know of people who were given a DUI when their car was already in their driveway, they were on their grass with the keys in their pocket and FPD arrested them. Joe Felz jumps a curb, takes out a tree, smells like booze and gets the royal treatment. That just goes to show how corrupt this city and its leadership is.
Our very own Bruce Whitaker even makes a subjective determination as to his condition at the time they were drinking together and stated  that he was in control of his faculties. What a guy.
Bruce Whitaker needs to stand up now and demand a full investigation of what policies were violated as well as the release of the body cameras and get the department to explain why the breathalyzer tests were not taken not immediately upon arrival at the scene but long after. Nothing short of that is acceptable.
Dan Hughes entered the scene 5 years ago letting the FPD officers that murdered Kelly Thomas watch the video over and over and write their reports,
Dan Hughes is leaving the scene on Friday with what appears to be obstruction of justice involving what should have been the arrest and prosecution of a city official on DUI charges. 
Dan Hughes is now going to work to run security at Disney? What kind of bizarre demented behavior will Dan Hughes be protecting in the Tragic Kingdom? I could go on and on about Disney and what goes on there behind closed doors and under the park.
Folks, just consider where we are and what they have done to the city. It is little wonder these two were throwing back a few that night. The show must go on folks until we replace these kinds of officials and public servants with people possessing integrity and wisdom.
Just look at how corrupt this whole think appears on the surface. This is lawlessness ladies and gentlemen. Heck they murdered Kelly Thomas on camera and got away with it. This thing compared to the Kelly Thomas murder to them is like choir practice.
Back to #1, why was not a breathalyzer required immediately upon arrival at the scene by the attending officers? Why the deviation from the protocol????   Did Hughes wave it off?  Why did the FPD not follow protocol is the question.
This man who is our City Manager, was, according to Bruce Whitaker, seemingly in control of his faculties. What is scary is that this man is in control of our city while we have our esteemed Bruce Whitaker drinking with and defending this man.
All I can say is thank God it was just a tree that got mowed down. Will Fullerton ever learn from its past as justice is dispensed so arbitrarily in this community of roads in ruin overrun by  its city officials and our youth awash in liquor? Based on the outcome of the last election, I highly doubt it.