Archive for category Public safety is becoming an oxymoron
Yes Jennifer Fitzgerald voted to give Joe Felz an evergreen contract
Yes Bruce Whitaker and Jennifer Fitzgerald voted to give Dan Hughes an evergreen contract
Yes Bruce Whitaker voted to make a Curt Pringle lobbyist, Jennifer Fitzgerald, mayor just in time for the ballot designation.
Yes Bruce Whitaker and Jennifer Fitzgerald voted to appoint a SCAG senior planner Ma' Ayn Johnson to the planning commission
Now Bruce Whitaker admits he was out drinking with Joe Felz on election night, and in my opinion, no doubt celebrating the re election of those keeping the lid nice and tight on the corruption you know like the 5 million dollar Fullerton golf scandal.
http://www.ocregister.com/articles/felz-734973-city-fullerton.html
"Whitaker said he and Felz each had a beer around 1 a.m. Wednesday during the councilman's re-election party at JP23 BBQ & Smokehouse in the 100 block of South Harbor Boulevard" 
………"He (Felz) seemed to be in control of his faculties," Whitaker said Wednesday night.
Hughes said in the memo that he received a telephone call at his residence from a watch commander who reported that Felz was involved in a minor crash and that a field sergeant believed the city manager was "emitting an odor of alcohol."
So Joe Felz, after drinking with Bruce, gets in his car, and in a residential area,  jumps the curb at 1:30 am, hits a tree, gets his car stuck, frees the car, attempts to drive off for 175 feet or so and, gets stopped by the police, smells of booze, allegedly demands that the officers call the police chief, is given a private set of sobriety tests and was allowed to delay the breathalizer, and then gets a ride home from the police, no charges, nothing to see move along now even though his car was damaged enough not to be driven to work today.
Dan Hughes apparently had at least four officers present at the scene who did not immediately conduct the field sobriety tests or administer the breathalyzer. The officers on the scene according to an unnamed source were officers Boline, Haid, G. Eibert, and Wilkerson. These officers have the experience, the expertise and  the arrest rates that get them the MADD awards at the council meetings yet they were called off of immediately testing Felz for DUI. Why is that?  That is because Joe Felz allegedly demanded that they call Dan Hughes.
Why did these officers listen to the person who allegedly demanded that they call the police chief when he smelled like alcohol after he just lost control of their car, hit a curb, and took out a tree and not make the judgement themselves to administer tests and evaluate and if necessary arrest Felz?  Why didn't they put the cuffs on him right away? If this was you or I, they would have.
No, instead these officers listened to the City manager that smelled like alcohol, who just lost control of his car, hit a curb, and took out a tree that allegedly demanded they call  The police chief Dan Hughes instead of immediatley doing what any good police officer would do. That is to immediately administer the tests. Apparently Hughes ordered them to deviate from policy and wait for Jeff Corbett to arrive some time later to evaluate Felz without another witnessing officer present and conduct the tests. Corbett is not one of the FPD's  field sobriety experts as he has not conducted a DUI test in years. So why delay and bring in someone who is not the most properly suited for the task? Well it is of course to control the outcome. Corbett is Hughes's special guy.
According to an unnamed source, Corbett led Felz away from the other officers and conducted the tests out of sight of the officers present and he did it alone which is a clear violation of  FPD policy. Perhaps that is why Felz passed the test with flying colors.
Was Felz given a PAS test? Why not?
To refresh your memories, this is a bizarre dichotomy of the sickest kind. Let me explain. Joe Felz was obviously driving impaired with evidence of a crash and alcohol on his breath and yet procedures are violated in order for him to go home instead of going to jail.
Remember this man? He was arrested in Fullerton for DUI and was also given a ride home, but his was, unfortunately, to his final resting place
Dean Gochenour obviously was driving impaired with evidence of  alcohol on his breath and yet procedures were violated in order for him to go to the morgue instead of going home.
Supervising Mr. Gochenour while in the jail was FPD Officer Vince Mater who ended up serving probation after pleading guilty to destroying an audio recording of conversations he had with Dean who later committed suicide in jail.
So why was Banana Republic Emperor Joe Felz not arrested for DUI and other misdemeanor charges at the scene?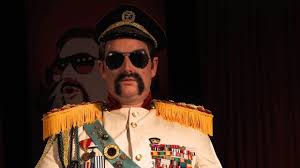 So why in the world was Bruce Whitaker  drinking with Joe Felz at 1 am on election night?
Why would Bruce appear to come to his defense and state that he had "one beer" with him and just minutes later according to the officers on the scene reek of alcohol and yet Bruce Whitaker stated that "He (Felz) seemed to be in control of his faculties,"?  What kind of BS is this? 
What's in it for Bruce Whitaker to step out and make a statement?  He covers his own ass.  If Felz was drunk, Bruce knowing this and letting the man drive home would look bad for not only Bruce Whitaker, but could implicate him in liabilities down the road.
Dan Hughes said City Manager Joe Felz was suspected of consuming alcohol – but wasn't impaired – prior to being involved in single-vehicle crash early Wednesday, according to a memo from Fullerton Police Chief Dan Hughes.
"On November 9, 2016 at approximately 0130 hours FPD officers were dispatched to 255 W. Glenwood regarding a possible collision where the vehicle had struck a curb and was stuck on the sidewalk. The driver was later determined to be city manager Joe Felz. I received a telephone call at my residence from the Watch Commander who informed me that the city manager was involved in a minor single vehicle collision and that the sergeant believed the city manager was emitting an odor of alcohol. I informed the Watch Commander that I would call the sergeant to obtain additional information and that I would have the field sergeant conduct a preliminary assessment by performing Field Sobriety Tests and if the sergeant believed there was a level of intoxication that met the criteria to be a violation of the law, we would contact the CHP to investigate. I provided the above directions to the field sergeant and also briefly spoke to the city manager on the phone to explain what protocol would be followed. The sergeant conducted the assessment and made the determination that the city manager had consumed alcohol, but did not meet the criteria of 23152(a) CVC. The city manager was driven home and his vehicle was towed. During this time period, I also contacted Mayor Fitzgerald and informed her I was following the protocol of notifying the mayor about the contact with the city manager. I informed the mayor of the directions I had provided to the field sergeant and that I would re-contact her when the investigation was complete. Her only instructions were to follow normal procedures. A collision report was documented under case 2016-74804 and a supplemental report will be completed by the sergeant documenting the assessment of the city manager."
We know he was consuming alcohol. Bruce admitted it, the officer on the scene smelled it, he crashed his car and gets a free ride home with no charges filed?
I know of people who were given a DUI when their car was already in their driveway, they were on their grass with the keys in their pocket and FPD arrested them. Joe Felz jumps a curb, takes out a tree, smells like booze and gets the royal treatment. That just goes to show how corrupt this city and its leadership is.
Our very own Bruce Whitaker even makes a subjective determination as to his condition at the time they were drinking together and stated  that he was in control of his faculties. What a guy.
Bruce Whitaker needs to stand up now and demand a full investigation of what policies were violated as well as the release of the body cameras and get the department to explain why the breathalyzer tests were not taken not immediately upon arrival at the scene but long after. Nothing short of that is acceptable.
Dan Hughes entered the scene 5 years ago letting the FPD officers that murdered Kelly Thomas watch the video over and over and write their reports,
Dan Hughes is leaving the scene on Friday with what appears to be obstruction of justice involving what should have been the arrest and prosecution of a city official on DUI charges. 
Dan Hughes is now going to work to run security at Disney? What kind of bizarre demented behavior will Dan Hughes be protecting in the Tragic Kingdom? I could go on and on about Disney and what goes on there behind closed doors and under the park.
Folks, just consider where we are and what they have done to the city. It is little wonder these two were throwing back a few that night. The show must go on folks until we replace these kinds of officials and public servants with people possessing integrity and wisdom.
Just look at how corrupt this whole think appears on the surface. This is lawlessness ladies and gentlemen. Heck they murdered Kelly Thomas on camera and got away with it. This thing compared to the Kelly Thomas murder to them is like choir practice.
Back to #1, why was not a breathalyzer required immediately upon arrival at the scene by the attending officers? Why the deviation from the protocol????   Did Hughes wave it off?  Why did the FPD not follow protocol is the question.
This man who is our City Manager, was, according to Bruce Whitaker, seemingly in control of his faculties. What is scary is that this man is in control of our city while we have our esteemed Bruce Whitaker drinking with and defending this man.
All I can say is thank God it was just a tree that got mowed down. Will Fullerton ever learn from its past as justice is dispensed so arbitrarily in this community of roads in ruin overrun by  its city officials and our youth awash in liquor? Based on the outcome of the last election, I highly doubt it.
For the first time in ORANGE COUNTY'S 100 PLUS YEAR HISTORY, VECTOR CONTROL plans to spray 53,000 acres of Orange County with a pesticide called "Duet dual action adulticide" and they are doing it WITHOUT mass mailing, WITHOUT your permission, WITHOUT your knowledge and WITHOUT your input.
FOLKS, NO ONE HAS DIED FROM WEST NILE IN THE OC IN 2015
 WHY RUSH THIS THROUGH NOW SECRETLY WITH NO WARNING? WHAT IS GOING ON HERE?
 THIS IS A HUGE PRECEDENT BEING SET HERE.
REMEMBER BACK IN 1989 WHEN THE MORONS AT THE STATE LEVEL SPRAYED TOXIC MALATHION ALL OVER THE PLACE AND THEY TOLD US THAT WAS SAFE? MALATHION IS NOW BANNED BECAUSE IT CAUSES  CANCER.  Read the rest of this entry »
To most Fullerton residents, the names Dan Hughes and Barry Levinson ring a bell. Dan Hughes is our current police chief who some say is simply Pat Mckinley with a smile. Others revere him as the much needed solution to the problems plaguing The FPD.  
Barry Levinson, is a Fullerton resident who is a rare breed indeed. He is a civic minded individual who has the guts to tell it like it is and repeatedly ask the hard questions that most political slimeskins in this town wouldn't dare to touch with a ten foot pole. Personally, the most perplexing questions that I still have, directly relate to Dan Hugh's comments about the 33 minute and 33 seconds of video where Kelly Thomas was left for dead in the gutter after he was brutally beaten by officers of The FPD. Last night the issue was revisited with no exception.
In my opinion Fullerton is not healed from anything. No, the cancer is now in stage IV and the treatment plan costs are going to run into orbit from the Kelly Thomas murder, the fallout from the sham trial and the precarious termination of the officers.
The current Flory, Chaffee and Fitzgerald council members, in my opinion, still have their little happy parties and fluff gimmicks while holding the resident taxpayers in derision with their voting records. Meanwhile, Bruce and Greg struggle to keep the ship steered in the right direction in rough seas. Who will rise to the occasion in November? Will Barry? Perhaps yours truly?
At this point it is anyone's guess. One thing is certain and that is Fullerton needs leaders and not lapdogs. Maybe whoever decides to throw their hat into the ring could use a refresher course on what courage really is and how to ask the hard questions. Weak, spineless, slimy politicians are what got us where we are. I say the hell with them and who needs them? Unless we can muster some real contenders coupled with some real civilian police oversight, we might as well leave the vampires in charge of the blood bank, lock our doors and stay home in November. I personally could care less about a few bucks added to my water bill every two months or a stinkin' pothole if I still have to worry about getting beaten to death for not playing doctor with some deranged cop or framed like an picture at an Aaron Brother's 1/2 cent sale.  
Here is the clip  http://fullerton.granicus.com/MediaPlayer.php?view_id=2&clip_id=513
Go to 28:20 and see for yourself. Here is what he has written and with his permission the following is published:
________________________________________________________________________________
By Barry Levinson | It is important to remind our city officials, the press and our community that our "new" police chief was our "old" captain who was the direct supervisor of officers Ramos, Cincinelli, Wolfe, Hampton, Craig and Blatney.
Anyone who is familiar with police work knows that the real training of officers comes not from the training officer but from their direct superior, on a day-in and day-out basis. That would have been then-Captain Dan Hughes. Therefore, I am disappointed that Chief Hughes has never expressed his regret that he obviously failed to train those 6 men adequately.
I have given Dan Hughes' comments about his viewing the video over 400 times much thought and analysis. First, the video was 33 minutes and 33 seconds in length. It would have taken him over 222 hours to view that video 400 times. Should we believe that he spent five-and-a-half-plus 40-hour weeks reviewing the video while on duty, or even at home?
What about the actual comments he made concerning the contents of the video itself. His contention was that those police officers acted properly as seen on the video.
There are only two possible explanations for his comments.
The first reason is that he really believes that those six officers under his direct command were doing their jobs as he trained them or,
Second, he believed that the video would never be released to the public and so he felt safe siding with his men.
The first possibility shows that he is as guilty as any of those officers for not knowing the proper boundaries for police behavior. That is downright frightening.
The other possibility shows his willingness to mislead the public for his own benefit. This is not behavior that inspires confidence and trust.
But yet he terminated officers Ramos, Cincinelli and Wolfe presumably based on their actions that very night. What is the public to believe? The Acting Chief Hughes's statements that after viewing that video over 400 times taking over 222 hours to complete, that he saw nothing wrong? Or the other Chief Hughes who terminated those three officers for their conduct that very night. Which Dan Hughes are we to believe?
Finally, when will the press, the public and every one of our council members, demand that he explain those glaring contradictions?
Barry Levinson
________________________________________________________________________________
Great questions Barry. Let's see if we ever get our answers.