Posts Tagged Gretchen Cox
Fullerton is in dire straights financially with our infrastructure in ruin. Dirty Agenda 21 deal after dirty deal gets passed by the council shortchanging the residents twice a month on TV. We have the worst roads in Orange County, with police, and fire overtime pay skyrocketing, a corrupt police department that has learned nothing from the past, high rise developers chomping at the bit, all but losing their patience, a bought and paid for city council, and a city hall crowd that is so scared of the truth that it has to enlist the help of anyone that they can get their hands on to run interference.
So what is in it for these establishment water boys and girls? Well they get to have some thinly veneered phony friendships and they get to go to the phony establishment happy parties.
Well lately, this ardent Fitzpringle sycophant and lackey, Gretchen Cox, who for years among other things, has ignored a 5 million dollar finding of fiscal mismanagement and potential malfeasance on the Park and Recreation commission brought forward by former commissioner Barry Levinson, has been rearing her head trying to bury the facts about all the aforementioned getting exposed with a bunch of fluff and calling truth tellers who expose corruption "bullies", "malcontents", "flat earthers" ,"tin foilers", and the like. Heck it is easier to believe the earth is flat than to believe Fullerton is run by honest people. Just look around.
We expose the real bullies like those that did this. Where was Gretchen when the real "bullies" did this to a totally innocent man?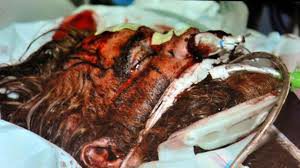 Of course it looks like she has teamed up with the self declared queen of the limousine liberal establishment, FPOA attack dog Pam Keller who defended the killer cops.
Hey forget the potholes, the holes in the budget, the blank contracts the council approves, the blank grant applications, the downtown bar owners that cozy up with and parlay the patsies on the council that allowed to write the district election maps as they suck us dry and ruin our community, forget the massive development they tried to ram through, the multi-million dollar overtime scam, the busted water mains, the killer cops, the crooked cops, the deranged cops and the just stupid cops, the dead trees, neglected parks, gopher holes all over the ball fields, dead grass, the bums all over the place, the building code violations found on multiple municipal projects, the run down shopping centers turning into homeless encampments whose owners were promised the high density payday development bonanza by the crooked city hall insiders that never came thanks to us and of course the abuse and ripoffs by city employees, because we work for them right? Well, not exactly but Gretchen and Pam certainly do. I expect Jan Flory to join in any day now. I hear the divorce business is slow because of the all the scumbags who have trained everyone not to get married anymore.
 Here is a quote from Jan Flory from the FB page "  
Finally, someone speaks up against the handful of malcontents who have hijacked our council."
May 17 at 10:09am 
The only ones who have hijacked the council are the unions and the developers. We are residents working to break that stranglehold and keep our community from turning into downtown LA. Jan Flory helped the hijacking process as she voted every time to give away the farm and turn her back on the problems.
Well, for all of you who want to live in LaLa land and pretend that the front end of your car is not bouncing up and down all over town on these third world roads the moment you leave your driveway, the alignment is just fine, that a parcel tax, a bond measure, a sales tax increase, a high rise housing complex will not be headed your way, and that drunk city officials deserve a ride home from the cops and you deserve to have the living shit beat out of you for refusing to play doctor with some deranged Fullerton cop, well we have a place for you. Here you will find respite from all your problems, a catharsis for your denial and a free lunch for anyone that cares to show up so bring your kids. Tell all your friends to run away from the malcontents, the tin foil hatters, the flat earthers and join forces with with the eugenics deniers, the mentally ill atheist liberals, and the pedophile protectors on the council and the school board.
"Are you sick of and bored to death by the " fraternity" of chronic malcontents that plague our city by endless complaining on every subject at most city meetings, unsubstantiated accusations of malfeasance and general mis-information, rants and bullying on their blogs?
I am, so come check out the "Fullerton First" group on Facebook! I started it to give the normal people a place to post and share info. about good things happening in town. Feel free to comment or post about anything, any activity, any people, teams or groups that you think are doing something fun, something interesting or just good things for the city. You can do so and not be afraid of being insulted or bullied by the naysayers and flat-earthers and conspiracy theorists. We can and will, however, call THEM out from time to time, as needed. But not too much… I'd like this to mostly be a positive place to highlight our wonderful town.
Come join Fullerton First and let's encourage a positive spin on the town we live in!"
Watch what goes on here when the  long-time Fullerton Parks and Recreation commissioner  Mr. Barry Levinson tries to expose a $5,000,000 shortfall to the taxpayers on a bad contract with American Golf. Well they all, including council candidate Jesus Silva, ignored it all. In my opinion, he has no business on the council based on his past and present conduct as a park and rec commissioner.
It is disgusting how Mr. Levinson is treated by Karen Lang McNabb. Ladies and gentlemen, these people are covering up a massive amount of lost revenue to the city that could be so properly utilized in our city.
Just minutes into this video reveal some real insight into the Fitzgerald apparatus at work. It comes at around the 3 minute and 10 second mark where Gretchen Cox, the Fitzgerald appointee and sycophant appears to engage in a little santoria while chomping on her time release aspartame chew up on the dais taking pleasure in shutting down the only one on the commission doing their job fighting for the taxpayers. This smug attitude towards those exposing corruption is typical with Fitzgerald and her operatives. That is why we need to throw Fitzgerald out.
Jesus Silva, who had repeatedly been exposed to this information at subsequent meetings and in written notice, abstained from a vote to shut Barry down. That amounts to aiding and abetting those hiding this massive 5 million dollar cover up. Shame on Jesus Silva who is nothing more than a coward and another political operative in my opinion.
Ladies and gentlemen, this  issue is still being buried by the entire City Council as well-ALL OF THEM. Even Bruce Whitaker, who appointed Barry Levinson refused to even respond to his own appointee in writing on this issue. Bruce Whitaker eventually fired Barry Levinson from his position on the Park and Rec commission. That is what Barry gets for doing his job, Shame on Bruce Whitaker who is nothing more than a coward and another political operative in my opinion.
What does that tell you about our city government? It tells me that change is in the air.November is right around the corner, just like my campaign signs ladies and gentlemen, Help me throw these people out on election day. Vote for Joe Imbriano 4 Fullerton City Council
.