"I know that most men, including those at ease with problems of the greatest complexity, can seldom accept even the simplest and most obvious truth, if it be such as would oblige them to admit the falsity of conclusions which they have delighted in explaining to colleagues, which they have proudly taught to

others,

and which they have woven, thread by thread, into the fabric of their lives."   — Leo Tolstoy
We know today that through direct observation, the microwave levels inside the classrooms at Troy and Sonora High Schools are at least 1000 times higher than in a typical home. Troy and Sonora have metal walls and the students are getting sick. Migraines, general malaise, fatigue, chronic insomnia, students falling asleep, and taking pain medication daily have become the norm at Troy and Sonora where the entire schools have sheet metal walls with industrial strength dual band access points deployed throughout. Sadly, these symptoms are just the tip of the iceberg as cancer and infertility are what await anyone chronically exposed to these emissions.
The microwave deployment was done just after summer and against years of protest and warnings at board meetings. This article is to expose a staff member who is directly responsible for the harms being done to all the students in the FJUHSD. This is pure evil folks. The schools are low power microwave ovens. 
THROUGH TOTAL DECEPTION, seeking to influence FJUHSD parents and school officials to irradiate all Troy High School students and teachers,
Troy teacher Jesse Knowles hosts "junk science" presentation.
 WIRELESS TECHNOLOGY PROMOTER AND TROY MUSIC TEACHER JESSE KNOWLES
Through a document obtained in a California Public Records Act Request, it has been learned that on August 14, 2013, Mr.  Jesse Knowles, a Troy High School teacher hosted a meeting in his home in which a "Dr.  Ramone"(aka Roman Schulze)  made a presentation to FJUHSD parents as well as Troy Principal and Assistant Principal, Amy Avina and Danielle Kenfield, respectively.  As the document states, the purpose of the meeting was to "provide an opportunity for interested parents to hear a different viewpoint."  Per the document, the presentation was to address another parent's research, Mr.  Joe Imbriano.
FULLERTON PARENT JOE IMBRIANO
A copy of the presentation was provided to Board Members.   Other FJUHSD school officials may have been in attendance.  Knowles' residence is next door to Mr.  Imbriano, a parent who has been outspoken in voicing the health hazards of wireless radiation, unnatural EMFs, and who was denied by the Acacia School PTA access to share this information with its' membership.  This is pertinent as THE FJUHSD was considering installing Wi-Fi throughout all of its' campuses, some of which HAVE METAL WALLS LIKE TROY HIGH SCHOOL AND SONORA HIGH SCHOOL, affecting the health and well being of a population of approximately 15,000 people, most adolescents AND OF COURSE THE ENTIRE STAFF.
The 36-page presentation, dated 8/14/2013, was titled
EMF-U, Electromagnetic Field University.  Although no name appears on the document, we assume the author to be Dr.  Ramone, (aka Roman Schulze) as he is the presenter.
Divided into five sub headings, the most significant is EMF, Studies and Literature, which focuses on the work of  Dr.  Luc Vershaere, Evaluations of International Expert Group Reports on the Biological Effects of Radiofrequency Fields, dated 3/20/2013.
About Dr.  Luc Vershaere  . . .
The centerpiece of Ramone's  (aka Roman Schulze) presentation featured the work of Dr.  Vershaere.  The work covers reports published in a two-year window, 2009-2011.  There exist decades of science and studies on microwave radiation, numbering in the thousands, that demonstrate it as a health hazard.  Ramone (aka Roman Schulze) ignores all of that and chose to extract and advance one work, embodying a mere two years.
Why not look at the thousands of studies and appeals by foreign governments and let the parents have an understanding of that?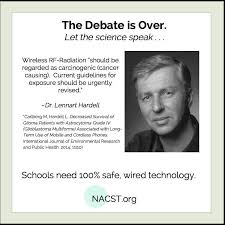 A close examination of the funding sources and affiliations is always required to better understand if the science is potentially compromised due to a conflict of interest.  Dr.  Henry Lai, University of Washington, performed a study of this:  Radiofrequency Research:  Does Funding Matter?, examining Industry and Non-industry funded studies and whether they found that RF-radiation had harmful effects.  "The EMF industry-funded studies found an effect from EMF exposures in 28% of the studies, and the independently funded EMF studies found an effect from EMF exposures 67% of the time."   That was from his database of July, 2007, and published in 2009, page 28, in Cellphones and Brain Tumors, 15 Reasons for Concern, Science, Spin and the Truth Behind Interphone.  Ref:  http://www.radiationresearch.org/pdfs/reasons_us.pdf
and  http://www.emfanalysis.com/research/
That data was available in 2007; did Ramone (aka Roman Schulze) examine the analysis?
As it turns out, Dr.  Vershaere's integrity, as well as many others, is sharply called out in this letter to Lancet Oncology Editor, David Collingridge:
"Luc Verschaeve
Declared COI: research institute received a small research grant (less than 5.000 €, ceased in March 2011) from the GSM Operators Forum on environmental effects of mobile phone base stations.
Undeclared COI: Luc Verschaeve is president of the Belgian BiomelectroMagnetic Group, which is sponsored by power grid operator Elia. He also received research funding from Belgacom."
Source, with links to evidence of Dr.  Verschaeve's Conflict of Interest:  https://pubpeer.com/publications/42E8BEABDD9C5FD5EF43F3378681DC
Why is Dr. Ramone (aka Roman Schulze) presenting information by someone with a known conflict of interest and why did the FJUHSD not use his real name?
Cancer?
Why didn't Ramone (aka Roman Schulze) present the February 2013 video statement Dr. Anthony Miller, cancer epidemiologist who served on a number of research groups for the IARC, who pointed that if RF were classified today, February 2013, it would have to be classified as a Class 2A probable human carcinogen?
In 2012 the Italian Supreme Court ruled that a man's brain tumor was caused by cell phone radiation.  Why didn't Ramone tell the parents and school officials that? 
Peer reviewed science demonstrates that exposure to RF-Radiation causes cancer.  As of this date, there are at least three such studies and we are, in fact, seeing the cancer rates increasing in our population.   Currently, there is a $1.9 billion lawsuit against Motorola, claiming that cell phones caused a man's brain tumor.  Everyone at Troy knows Jesse Knowles himself just had a brain tumor removed. Was it caused by his deep love affair with his wireless devices?
There was plenty of evidence in August 2013 that wireless radiation exposures cause cancer.  Certainly, the parents and school officials should have been given this information.  Why did Dr. Ramone (aka Roman Schulze) withhold this critical information?
Instead, the portion devoted to cancer was a shallow walk-through of cancer classifications.  Meaningless information considering that researchers were already speaking up and calling for reclassification to a "2a" and that the lawsuit against Motorola in which the plaintiffs demanded a trial by jury was dated May 3, 2010.
Electrohypersensitivity (EHS), Electrosensitivity, Microwave Sickness  
This is a hugely significant health matter for a growing number of people.
The last bullet point on page 33 reads:  "Electromagnetic Hypersensitivity" Is Not a Valid Diagnosis.  Ramone ignores the Austrian Medical Association, which released a consensus paper with guidelines for the diagnosis and treatment of EHS.  This was adopted in March 2012 a full year and a half prior to Ramone's presentation.  If he had done the research required, Ramone would have discovered that "in 1970, a report from the former Soviet Union described the "microwave syndrome" among military personnel, working with radio and radar equipment, who showed symptoms that included fatigue, dizziness, headaches, problems with concentration and memory, and sleep disturbances. Similar symptoms were found in the 1980s among Swedes working in front of cathode ray tube monitors, with symptoms such as flushing, burning, and tingling of the skin, especially on the face, but also headaches, dizziness, tiredness, and photosensitivity."
Why did Dr.  Ramone (aka Roman Schulze)  omit this?
"More Info and Links"
Most, if not all, of these referenced sites are known to act as shills for the tech industry, casting doubt on any science that challenges the safety of wireless radiation.
Why didn't Dr. Ramone  (aka Roman Schulze) include the many websites that take a fair look at wireless radiation? 
Questions Unanswered
Knowles' motivation in hosting this meeting in which a one-sided, two-year window of selective and biased EMF science by Dr.  Vershaere, a person with verified conflict of interest with the Telecom industry, is unknown but does clearly constitute negligence on his part.  Normally, teachers care for their students and their safety is of primary importance.   By giving this platform to Ramone (aka Roman Schulze), Knowles was working to influence parents and school staff and convince them that any questions as to wireless radiation being a health hazard would be put to rest and the parents could rest easy. The end result was imminent harm to the children and student body.
What was Knowles' interest in bringing microwave radiation into the high schools?  On whose behalf did he do so?
We know that his wife, Michelle Knowles, began the Acacia Foundation for the local elementary school and worked for years fundraising for iPads that would bring wireless technology to the elementary school.
Is Dr.  Ramone really Dr.  Roman Schulze  ?
This individual name is listed as Dr.  Ramone, a "local physician," and "active parent in the Acacia (elementary school) parent support education."   A computer search for 'local physician,' Dr.  Ramone, comes up empty.
However, there is a Dr.  Roman Schulze, then an 'Acacia parent', also a 'local physician' and married to a Ms.  Michelle Garden, a woman very active in bringing wireless radiation to Acacia Elementary School.  On the Fullerton Informer website, Ms.  Garden has publicly stated that her husband en joyed arguing about health effects from microwave radiation exposure and that he did that "for sport."
Thousands of kids' health and future on the line and physician, Roman Schulze, views his participation in this critical subject matter "as sport."
Is Dr.  Ramone really Dr.  Roman Schulze?  It seems highly likely.  If that is the case, why wouldn't Dr.  Schulze want his correct name in the documentation?  Why is no author listed on the EMF-U presentation?  Why would a physician not lay claim to his own work?  What are the professional ethics of a physician that conveys safety on a substance when no safety assurances can be made even by the tech industry?
"Danielle" Was Likely Convinced
The copy of the EMF-U presentation has a name tag with "Danielle" and handwritten notes on two pages.  We could reasonably assume that "Danielle" is Troy Assistant Principal, Danielle Kenfield.
The notes state, "cell phone, wi-fi . . .  no relation to causing cancer (unlikely to cause cancer)" and "no worries."   Did Dr.  Ramone's presentation convince Kenfield that microwave radiation exposures in the classroom were not a health hazard?   It seems likely.  Was Troy Principal Amy Avina convinced?  We do not know, but suspect that since the wireless radiation has begun to advance in our children's school environment that she most likely was.  Additionally, there has been no evidence of an outcry against wireless from either of these two and that is probably because the presentation was a dishonest portrayal.
How many parents were convinced that unprecedented, all-day microwave radiation exposures at Troy High School would be okay for their students?  Was the Troy PTSA in attendance?
Why was Jesse Knowles allowed this exclusive access to address the parents and school officials, presenting them with corrupted information and science on a matter of huge significance?
Wireless Radiation Science: Ethics, integrity, morality
The study, research of unnatural EMF, microwave radiation, wireless radiation is no straightforward or easy task.  In fact, embarking on this adventure the lay researcher and even the seasoned health professional soon learn that it is a bottomless pit, going back decades.  The science is pulled, distorted, manipulated, destroyed, not funded, and subverted in the cleverest of ways.  One must determinedly stay the course, sifting through evidence, in pursuit of truth.  This is truly a labor of love, a love for humanity and truth.
Dr.  Ramone appeared to lack the ethics, integrity, and morals to fairly portray the science.  Ramone, even as a physician, appears to have no respect for the students or teachers, as he has effectively sold an audience that these emissions are safe.  This is no more clearly conveyed than referring back to the Public Request document, with the following statement:  "Dr.  Ramone's presentation expressed . . . that in fact there is no correlation between WiFi (microwave exposure) and cancer."
Astounding.  Our children's and the teacher's health is determined by deception and lies by a physician that appears to lack morals, ethics, and integrity. What can be said for the Knowles husband and wife team?
Perhaps, Ramone found this whole matter the same as Dr.  Roman Schulze – a "sport".
No excuse
There is no excuse for Knowles hosting Roman Schulze's presenting one-sided, vastly limited in scope, and corrupted science to the parents.  One can readily come to the conclusion that the intent was to deceive them.
Many experts will cite the Precautionary Principal, stating that there is no consensus of science but there is a need to err on the side of caution.  That would mean to wire the technology and not take the chance with people's health.
Why didn't Ramone apply the Precautionary Principal and err on the side of caution for the kids? Why did Jesse Knowles and his wife Michelle Knowles continue to support and run the Acacia Foundation as it simultaneously raised funds for wireless devices to be brought into the elementary school in the neighborhood?
What is at stake?
The stakes couldn't be higher.  The health, well-being, and future of 15,000 students and teachers is on the line.
Refer to the countless sources referenced in the Demand Letter to Troy High School PTSA that document the health hazards:
The Truth Will Prevail 
Appeal to Troy High School teacher, Mr.  Jesse Knowles 
It is difficult to believe that you are intentionally working to bring microwave radiation, a recognized, known health hazard to Troy High School.  The evidence, however, points to that.
It is much too late for denial of the health harms of wireless radiation, as students as well as teachers are becoming sick, dying from these exposures.  Lawsuits, nationally and internationally, are already in progress due to exposure in schools and other environments.  Laws in other countries, provinces are being passed to remove, reduce exposures.  This is starting with the very youngest, as they are the most vulnerable.  Schools that have installed wireless are looking for ways to quietly 'walk it back' and reduce/remove wireless radiation and, at the same time, limit their financial liability.
Recently a parent of a child in Jesse Knowle's class forwarded several letters, studies and scientific information on the hazards of microwave radiation to him and HE REFUSED TO ACKNOWLEDGE THAT HE HAD RECEIVED IT.
The lawsuits will continue and schools will continue to pull back and, ultimately, remove wireless radiation.
Every student and teacher has the right to a safe and healthy school environment.  We are looking to you, Mr.  Knowles, to right the wrong that you have actively participated in creating.
For the health and well being of the students and your fellow teachers at Troy High School Jesse Knowles must:
Immediately work to remove existing wireless infrastructure at Troy; students should not have to be irradiated in order to receive an education.
Actively spread the message by educating students and fellow teachers of the "emerging public health crisis", leading to premature death, and DNA damage and as expressed by over 200 international scientists in an Appeal to the U.N. and World Health Organization.
Work to develop curriculum, programs for teens advising them on the least hazardous method of handling wireless devices.
It is time for unwinding the damage, it is time for defending the defenseless and to stop yielding students' and teachers' health and well being to outside interests.
Truth Will Prevail Indeed