FULLERTON SCHOOL DISTRICT SUPERINTENDENT ROBERT PLETKA SAYS THAT THE WIRELESS CLASSROOMS ARE "… TOTALLY SAFE FOR THE CHILDREN."
Good evening Fullerton School District parents, this is Superintendent Bob Pletka. I am very pleased to announce that during the coming week, the District will be distributing over 6,000 iPads to all 5th through 8th grade students throughout our District as a part of our 1:1 VIP (Visual Innovation Program). California State Superintendent of Public Instruction, Tom Torlakson, will be joining me at Valencia Park School, Wednesday, August 27, 2014 at a press conference to announce the distribution of these iPads. 

We are excited that the District's commitment to including high-level technology that reaches beyond the classroom is becoming a reality. We are also committed to being your first source of information regarding our progress. We expect that this announcement will receive broad local news coverage, and we wanted to keep you apprised.
This e-mail has been sent to you by FULLERTON SCHOOL DISTRICT. To maximize their communication with you, you may be receiving this e-mail in addition to a phone call with the same message. If you no longer wish to receive email notifications from FULLERTON SCHOOL DISTRICT, please 
click here
 to unsubscribe.
FULLERTON SCHOOL DISTRICT SUPERINTENDENT ROBERT PLETKA SAYS THAT THE WIRELESS CLASSROOMS ARE "… TOTALLY SAFE FOR THE CHILDREN."
SAY WHAT? http://ehtrust.org/wp-content/uploads/2014/07/Schools-and-Wireless-and-Health-EHT-Preliminary-DraftAugust-2014.pdf
Sure Torlakson is unaware of the wireless debate just like when he had me illegally thrown out on my ass from a public meeting last year, https://thefullertoninformer.com/insert-foot-in-mouth/#sthash.2jK4mSiu.dpuf 
Some more info on how he knows nothing about anything.
https://thefullertoninformer.com/tom-torlakson/
https://thefullertoninformer.com/straight-from-the-horses-mouth/
Yes,we were there with our banners to warn the mind controlled masses, the spineless, lackey school district minions and to film and greet the brass, Berryman had no comment and the District's IT guy hid in the shadows. Yeah the establishment is all going along for the ride as the largest unmitigated public health disaster in the making is being ordained by the most respected (depending on your subjective frame of reference) members of our community.
SO NOW THE MILLION DOLLAR QUESTION: ARE WOMEN GETTING BREAST CANCER FROM CARRYING THEIR CELL PHONES IN THEIR BRAS?
If soft tissue cancer results from wireless cell phone microwave exposure, what do we make of this wireless iPad microwave exposure?
HE CHOOSES TO IGNORE SCIENTIFIC STUDIES THAT WARN AGAINST WHAT HE IS FORCING ON THE STUDENTS
The Fullerton Joint Union High School District awarded an electrical contract THAT INCLUDES NO WIRELESS SYSTEMS a few months back sparing 14,000 High School students and staff who will not be be forcibly exposed to wireless microwave radiation at school which would have been trillions of times background levels. That meant that all of the hot mapping for deployment has been called off, and the wireless access points, and related equipment is sitting in a warehouse where it MAY HAVE COST THE TAXPAYERS SOME MONEY BUT AT LEAST IT can't hurt anyone.
ROBERT SINGER, Ph.D., CITED SAFETY CONCERNS WHEN THE DECISION WAS MADE TO HARD WIRE THE ENTIRE F.J.U.H.S.D
Here it is-THE ELECTRICAL CONTRACT from earlier this year
Meanwhile, back home on the range for the most vulnerable segment of our student population here in town, the K-8 students, The Fullerton School District under Superintendent Robert Pletka's watch is GOING WIRELESS ALL THE WAY DOWN TO KINDERGARTEN.
https://thefullertoninformer.com/looky-here-ladies-and-gentlemen-the-devils-in-the-details/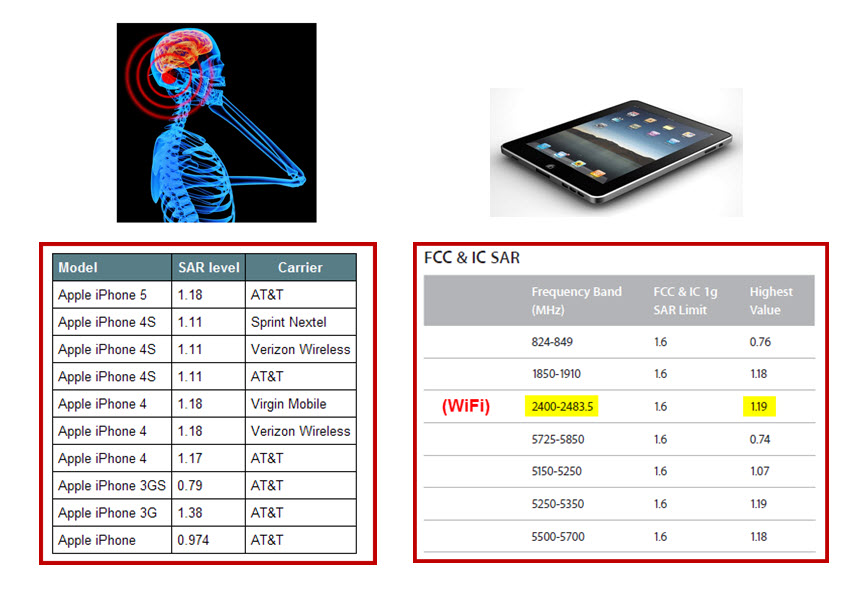 IPADS EMIT MORE MICROWAVE RADIATION THAN CELL PHONES
Dr Dariusz Leszczynski, Adjunct Professor, Division of Biochemistry and Biotechnology at the University of Helsinki and a member of a working group of 31 scientists from 14 countries constituted by World Health Organization (WHO) that classified cellphone radiation as possibly carcinogenic, in conversation with Maitri Porecha, reveals how leading cell phone operators and manufacturers are withdrawing funding for research, leading to closing down of laboratories studying effects of radio-frequency electromagnetic fields as emitted by wireless devices, cellphones and cell towers
http://www.dnaindia.com/scitech/report-use-of-cell-phones-increases-cancer-risk-2011557
Fullerton has quite the establishment folks. Its roots runs deep and dark in my opinion. It involves the schools, the city hall crowd, the FPD and even some of the wanna be big timers who play church on Sundays.
I believe the children of those who value their wallets over their own flesh and blood will soon learn the hard way. Their parents ignored the fact that the jury on wireless has been in for decades. The verdict was found to be comprised of cancer, ADHD, autism and infertility. Check out these women who are along for the ride:
TOO BAD THESE ARE NOT MY ASSERTIONS- http://ehtrust.org/wp-content/uploads/2014/07/Schools-and-Wireless-and-Health-EHT-Preliminary-DraftAugust-2014.pdf–
https://thefullertoninformer.com/fullertons-newest-cell-tower-in-richman-park
Fitzgerald she needs to spend a little less time at the hair salon and devote a lot more time to dealing with reality.
https://thefullertoninformer.com/hilda-sugarmans-dystopic-vision-of-wireless-ipads-every-single-child-will-have-one-247/
Jennifer Fitzgerald, Doug Chaffee and Jan Flory all voted to put a 4000 watt cell tower right on top of a community health clinic next to a school last night with Robert Pletka's blessing. Yes it is one big happy party for these deniers.
I wonder what Hughes is thinking while he poses for photo ops with Pletka? What does Hughes and Fitzgerald think when they send their daughters off to be irradiated at school everyday while they pretend to ignore the wireless discussion every other Tuesday night on this issue? What's for lunch or probably nothing as that would explain their behavior. What about the five F.S.D.  board members that are connected at the hips to each of these establishment deniers?
– See more on these five at:https://thefullertoninformer.com/the-fullerton-five/
Cognitive dissonance in this town has quite the high price, seemingly having  no end and apparently knowing no limits after thousands of studies have been presented to and ignored by these people warning against what is being done to your children.
Why do wireless and microwaves always get a pass? Did it ever occur to any of you as to why we have this explosion of  Down Syndrome babies born to very young mothers today? How about Testicular Cancer in young men from the cell phones in their pockets, wireless laptops, tablets and gaming controllers in their laps, Prostate Cancer in young men,  Autism, ADHD in our young children, Infertility in our young men and women, Atrial Fibrillation  in our parents, heart murmers arising out of nowhere in our children, kids dropping dead at school, bizarre rheumatic conditions and all the other forms of  Cancer today? Close your eyes and pretend this is all a conspiracy theory while the emission levels go off the charts all around us. This stuff is not natural and is trillions of times the normal background levels. Wake up.
When Federal Legislation is written to forcibly irradiate you and your children with categorical exemptions for cellular infrastructure jammed down our leaders throats, the last thing we need is ill informed, spineless lackeys and educrats making health decisions for you and your children in areas where there are no categorical exemptions like classrooms.
I wonder if It ever occurred to any of these reprehensatives that this is a decision well above their pay grade as well as their intellect and has been placed there by design replete with 1st and 10th amendment violations just for good measure as icing on the cake. I wonder where we would be today if the same pass that wireless is being given was given to DDT, tobacco, asbestos, dioxin, mercury, BPA or any other loving compound? I wonder. Yeah the government never lies and scientists would never serve up results catered to order.
Folks that is exactly what we have and you are all going along for the ride. So why do they roll the dice with your kids?
The welcome wagon was rolling nice and smoothly for a feel good time and happy party over at EV Free last Friday for all the accessories to the forced irradiation of 14,000 school children in the FSD with FSD and FPD top brass as well as  hack council members that have demonstrated their total willful ignorance of this issue .
Well, I wonder if any of these cats opened The Word to 1 Timothy 6:10 that was staring them in the face on the back of the pew at their little shin dig last week.
I prefer the King James Translation over the New American Standard-
So why do they roll the dice with your kids again?
"I'm holding it up as a model for the state," said Tom Torlakson, state superintendent of public Instruction, said at the presentation.
 THE LOVE OF MONEY IS THE ROOT OF ALL EVIL.
In closing, I have been asked to please share this letter with the world .

An Open Letter from Traci Frantz On Cell Phone Safety

My name is Traci Frantz and I live in Strasburg, Pennsylvania. On January 4, 2012 my
daughter, Tiffany, was diagnosed (in Lancaster, PA) with Invasive Ductal Carcinoma in her left breast.
Tiffany submitted to genetic testing and, as a family, we underwent genetic counseling. Genetic tests
including BRCA1, BRCA2 and TP53 tested negative. Therefore, there is no genetic pre­disposition to
breast cancer. However, Tiffany stored her cell phone in her bra (against her bare skin) for at least 5
years, every day, all day (12 hours/day) and the masses that were found lined up exactly with where she
stored her cell phone.
By November of 2012, Tiffany had a left mastectomy, radiation therapy and reconstructive
surgeries (at Hopkins) and we were convinced that the cancer had been removed and obliterated by 6
weeks of radiation therapy. However, in March of 2013 it was discovered via PET scan and MRI (in
Lancaster, PA) that Tiffany's breast cancer had metastasized to her hip, pelvis, spine, sternum and
skull. Tiffany underwent surgery to insert a plate into her left hip as a stabilizer and 2 weeks of radiation
to treat the tumor that was quite sizeable. She currently is undergoing monthly Zometa IV treatments
(for 2 years) and daily Tamoxifen treatments (for 5 years).
We most recently (June 2014) have been informed that according to her latest PET scan, her
cancer has metastasized to her liver.
The wording that is being advocated for is already in the owner's manual which no one takes the
time to read. Cell phone manufacturers KNOW there is a danger otherwise they would not include it in
their verbage. We are only asking for it to be better seen by the consumer at the point of sale for the
sole purpose of heeding caution and for nothing more. Have you and your family taken the time to read
your owner's manual? Have you and your family heeded the advice your cell phone manufacturer
recommends?
I WISH there would have been a warning on the outside of the box for ALL of us to read ­
My daughter may not have to fight for her life if it were!!!

Traci Frantz
What do you think these devices are doing to your daughters' eggs ladies and gentlemen? What about your sons' reproductive organs? I believe that there are no accidents here gang. I believe that this is all being done on purpose. They are jamming wireless down your throats and up your backsides. 
BREAK YOUR CONDITIONING FOLKS.
https://thefullertoninformer.com/the-inconvenient-truth-of-the-wireless-agenda/.
https://thefullertoninformer.com/the-wireless-agenda-purloining-their-fecundity-the-next-generation-betrayed-enslaved-and-ending-up-depraved/
YOUR ENTIRE LINEAGE IS ON THE LINE